Kochava offers measurement for all connected devices.
Today's consumer is surrounded by an ecosystem of connected devices from televisions and gaming consoles to smart homes, smart cars and ever-smarter phones. These savvy consumers shift seamlessly from device to device—starting a journey on one platform and continuing it on another. The marketer's challenge is to effectively track their audience across all connected devices so that they can provide the best possible user experience (while spending ad dollars efficiently). Solving these challenges is the task of multi-touch attribution or holistic measurement platforms.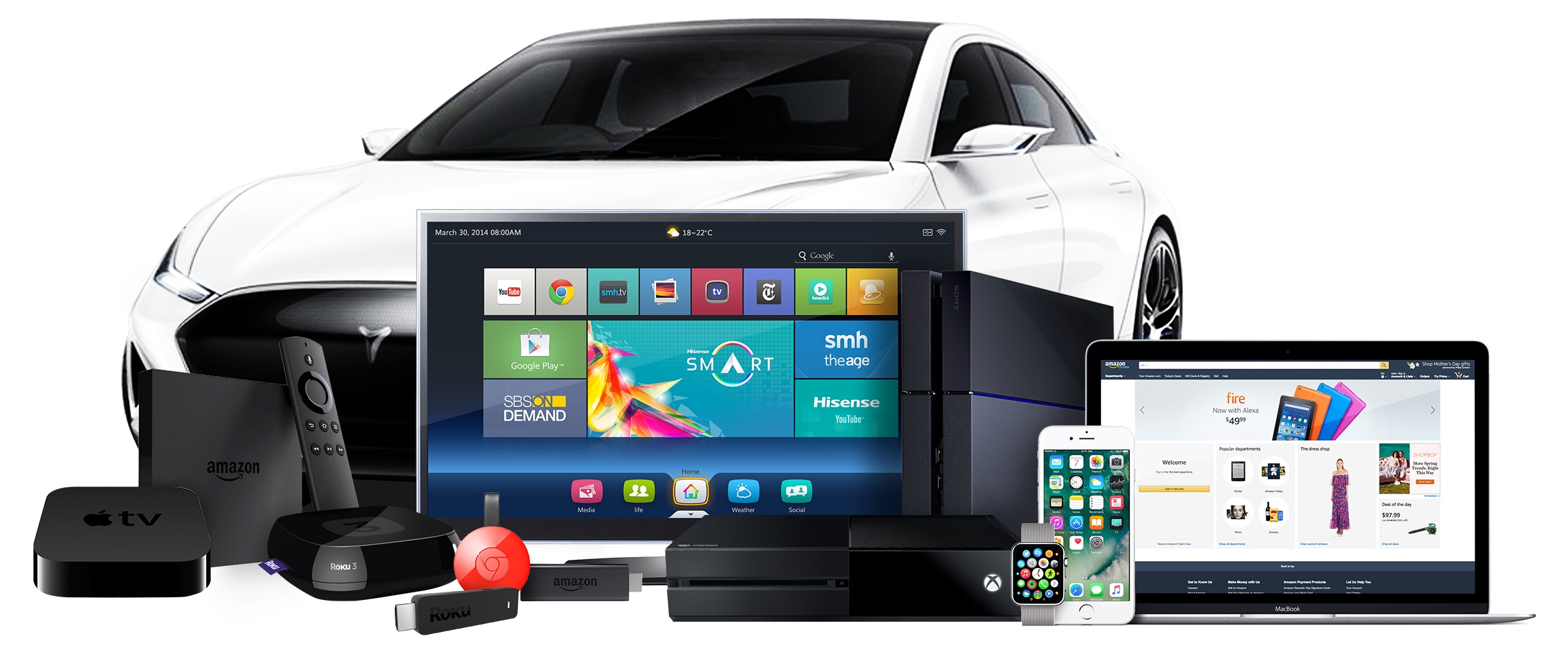 As the world of connected devices grows, marketers need to augment user activity on each device with activity across all devices. Kochava has the tools needed to measure and create a holistic view of user activity on any device.
The Unified Audience Platform combines connected devices into one encompassing picture. The better a marketer understands their audience, the more precise are their targeting and reengagement campaigns and the ability to scale.
From OTT devices, such as smart TVs, Roku, Amazon Fire Stick, and gaming consoles, smart homes and smart cars, to websites and mobile applications, the Unified Audience Platform is where marketers obtain the necessary data they need to create cohorts and new audiences and obtain a seamless picture of the user journey.
OTT: The next step in the evolution of connected devices
Televisions have entered the realm of connected devices thanks to the rise OTT (over-the-top) devices linking the web to them. Marketers have recognized the shift and need ways to track users across all devices and platforms. This shift has become even more evident with U.S. addressable TV spend expected to grow from
$890 million in 2016 to 2.17 billion in 2018
. With this increased spending, comes the need to understand performance.
Kochava has OTT measurement solutions for:
Set Top Boxes



Smart TVs




Gaming Consoles



Streaming Sticks



Whatever the device, Kochava is ready with the Universal Audience Platform to help you plan, target, activate, measure and optimize your audience interaction across channels and devices, offering a truly comprehensive view of audience engagement in the OTT world.
Web SDK & IdentityLink
Web SDK gives you the ability to seamlessly track user behavior in-browser, across devices and platforms, and leverage the power of the Unified Audience Platform for your browser-based audience engagement.
Web SDK treats your website as an app to
track alongside your other apps
in our Analytics dashboard. To enable true holistic measurement of your brand on the web or mobile, use IdentityLink to measure user activity on any platform to gain a truer picture of your users.
Through the combined use of the Kochava
Web SDK
and
IdentityLink
, measure users as they travel from the web to connected devices, and use this data to target them more efficiently in a reengagement campaign.
Once you've created a web app and have integrated the Web SDK, IdentityLink lets you associate an internal customer identifier with a user on any connected device. You can then analyze behavior for that user using a single identifier across devices to create a single view of app activity.
Kochava ties users across devices using a variety of identifying methods for any combination of user activity.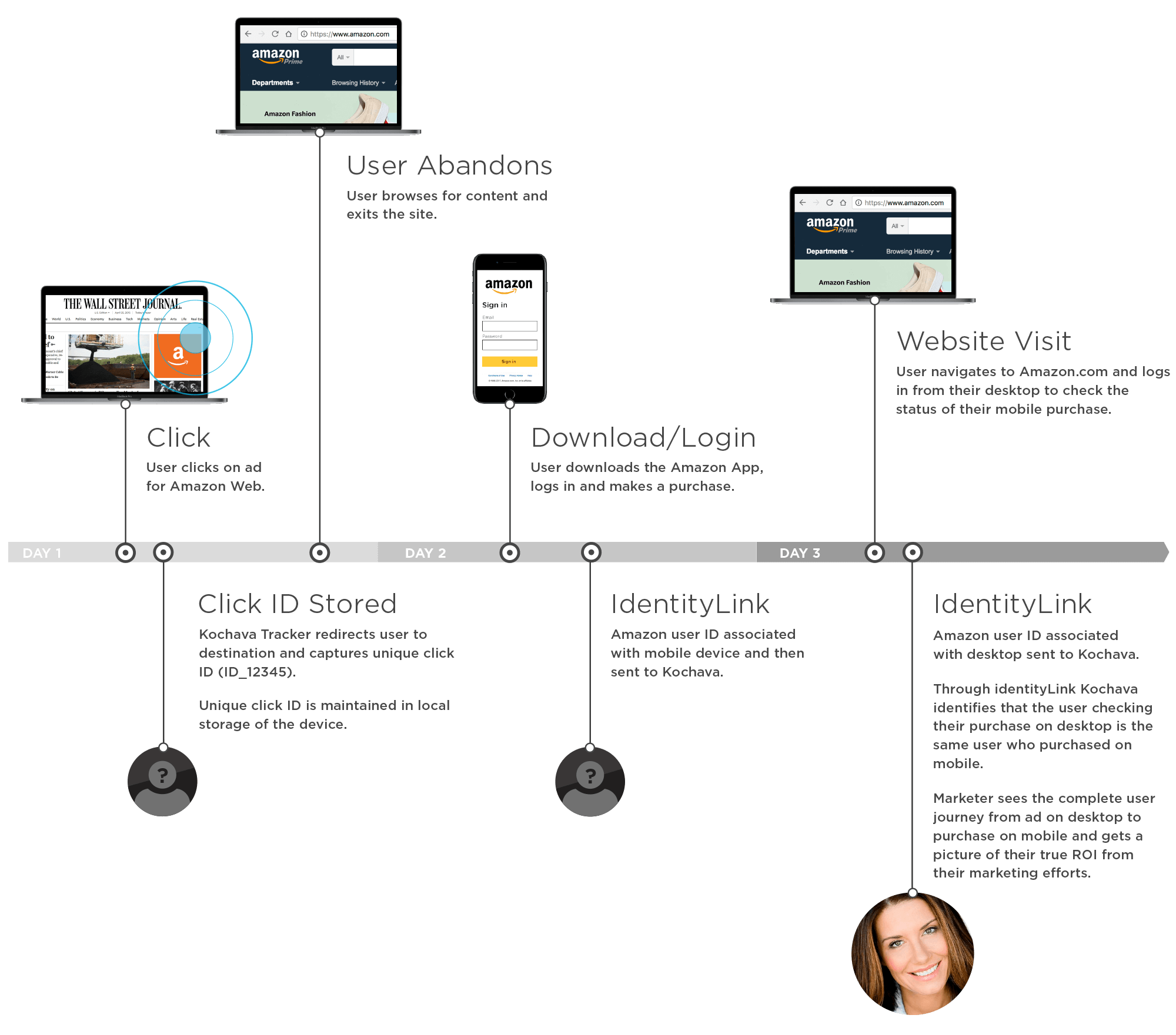 Track pre- and post-install events with Web SDK to see what your users were doing before they logged in or performed a conversion. For each tracker, define the most relevant action as your conversion event.
Through Web SDK and IdentityLink, Kochava retroactively attributes the conversion click to the appropriate device. With this method, Kochava tracks user activity across platforms back to the original publisher source. By tracking each device, marketers gain a holistic picture of their users for more precise retargeting or reengagement campaigns.
Audience Attribution
Along with deterministic methodologies, Kochava has developed probabilistic cross-device algorithms to further extend the picture of your marketing efforts. For instance, Proximity Identification can group multiple devices based on location. Proximity Identification delivers new insights into how users interact and influence one another. This is an important step in creating a comprehensive picture of user behavior and the true impact of user acquisition and reengagement campaigns.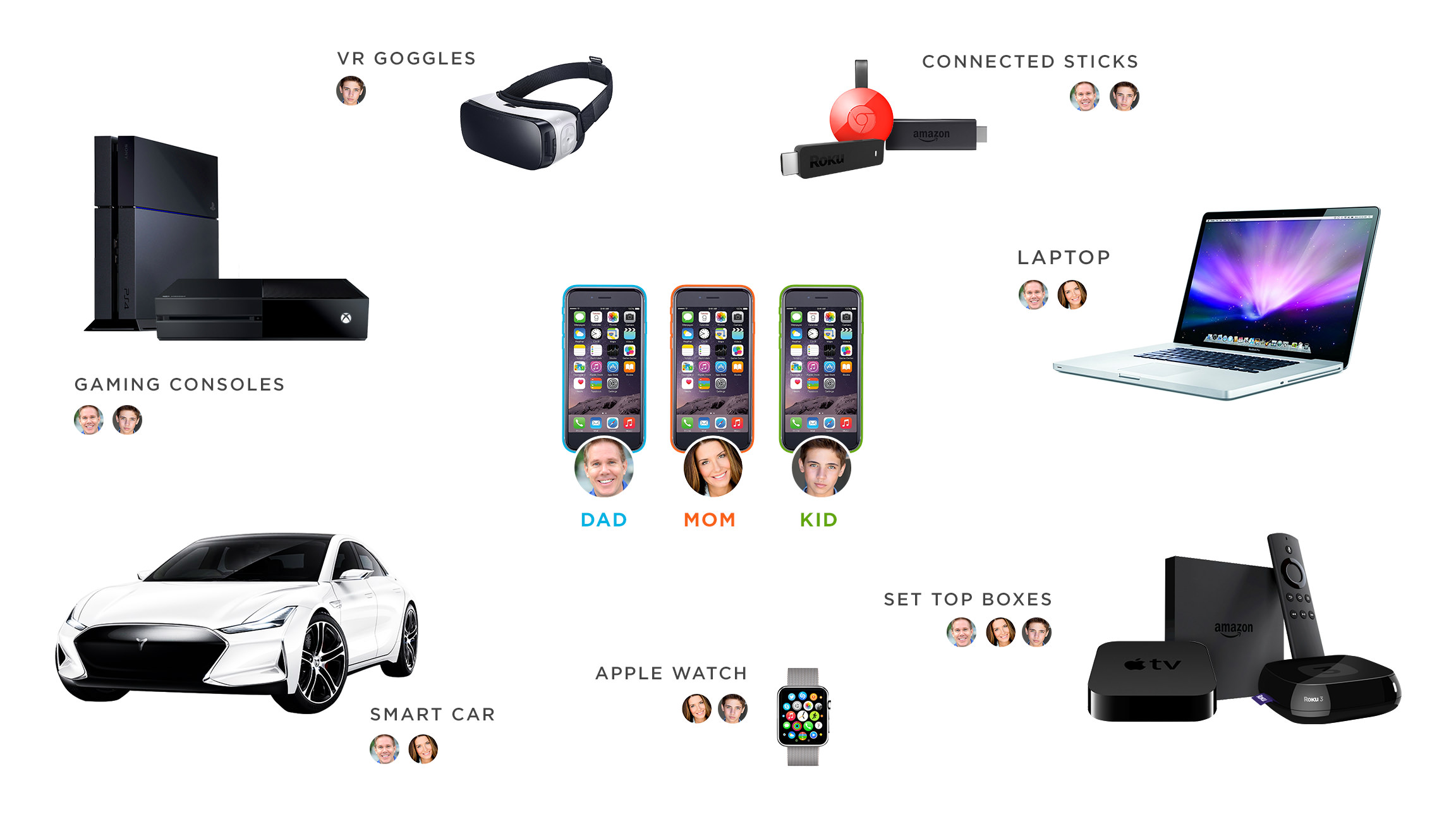 Proximity Identification can be used for deeper levels of targeting to increase ad spend ROI by identifying the primary influencer in a household, or reduce wasted ad spend through negative targeting. For example, once a user of a subscription video company registers an account, they usually share the same account within their household. Thus, once one user is attributed, the company can avoid wasting money targeting other household devices, knowing that the app will be downloaded onto the other devices "organically" and the user ID will be shared among them. Conversely, an advertiser can spend more to acquire a primary influencer knowing that they drive higher than average "organic" lift within that household.
This data becomes even more powerful when you enrich your existing customer and household datasets via the
Kochava Collective
to understand patterns such as app affinity, app usage, and precision GPS location data.
The Unified Audience Platform: Connecting devices for one holistic view
Measure OTT and web apps in the Analytics dashboard as you would for any other app. Find out where your users are, how far they've proceeded through the funnel, and whether they are returning users, among other facets of their journey. This dashboard is the keystone to your marketing analysis and should be the next stop after setting up tracking with OTT or web apps.
As the evolution of connected devices continues, you can be sure that Kochava has already designed a way to measure it. The Unified Audience Platform is the only solution for holistic measurement of app campaigns on connected devices.